Iwan Fox of 4barsrest has taken the opportunity during this time of lockdown to have a closer look at our pCornet. Here he shares with us his thoughts...
'The remarkable success story of the plastic musical revolution led by Warwick Music Group has been well documented.
Set up in 2010 the company has sold over a quarter of a million pBone trombones and countless other pBuzz, pBone Mini, pTrumpets, hyTech trumpet and pCornets. They are to be found being played in every corner of the banding globe.
In 2019 the company was presented with a Queen's Award for Enterprise in recognition of its pioneering development of ABS recyclable plastic 'brass'.

It mirrors the huge impression its products have made across the world, including the USA where the hyTech trumpet was acclaimed as the 'Best Teaching Tool for Intermediate Students' at the influential NAMM Conference in California earlier this year – an event that attracts over 115,000 educators, teachers, and professional players.

Growing presence
Where the pBone has pioneered acceptance, the other products have followed suit – notably the trumpets, but also, with a growing presence in schools and learner groups, the pCornet.
4BR has taken the opportunity of an enforced lock-down to get to grips with one – and you have to say, it certainly makes playing fun.
The target customer base is the learner player (age irrelevant in this day and age) – but with little doubt that it is aimed to capture the imagination of those around the age of 7 who are making their first decisions about what they want to do with extra-curricular activities in school and hobbies in their spare time.

Research
With that in mind, the Warwick Music Group has done its research – and done it well.
The instrument is light (just 500 grams), bright (it comes in red or blue colour options) and incredibly robust. It is also cheap – coming in around the £80.00 mark.
What makes it different though is not what it is made of (just the springs and valve felts are the only things not plastic on it), but that it is so well designed to do its job. The end result is that it also pays out performance dividends quickly - especially if parents and tutors take the time to follow the excellent on-line teaching guides.
Being so light it encourages the correct posture (the clever design of the little finger rest helps), whilst the compact layout means little hands can easily be positioned over valve-tops. The single waterkey does its job, whilst the first and third slides can be removed easily.

Clever bods
The clever bods at Warwick has also ensured that inquisitive young minds with a penchant for taking things apart won't be left with a puzzle they can't solve to put the instrument back together either.

The main tuning slide is easily replaced, whilst the first and third are interchangeable. The valves can swap places too – opened from the bottom. You will need to keep an eye on the springs not bouncing into the dark crevices of the settee, but there shouldn't be any real reason why they need to be opened up.
The valves on our trial instrument worked perfectly from the moment we took the pCornet from its wrapping.
The instrument comes with two mouthpieces – the equivalent of a Denis Wick 2b and 4b (although as they are both in black, for a young player they are impossible to really distinguish) and a velvet-feel carrying bag that can be easily slung over a shoulder or tucked into a school bag.

Ideal starting point
This is all well and good, but as good as it looks, does it offer the ideal starting point for a young payer to learn to play a 'brass' instrument?

The answer is undoubtedly yes – and with plastic knobs on.
It is remarkably easy to blow (the lead pipe is a sturdy bit of engineering) and quickly responds by producing a fat, resonant tone. Young players can quickly progress to use a good quality metal mouthpiece if they wish giving even greater resonance of sound.
The biggest compliment is perhaps that it doesn't sound plastic for long. The rewards for correct teaching are quick, obvious and lasting.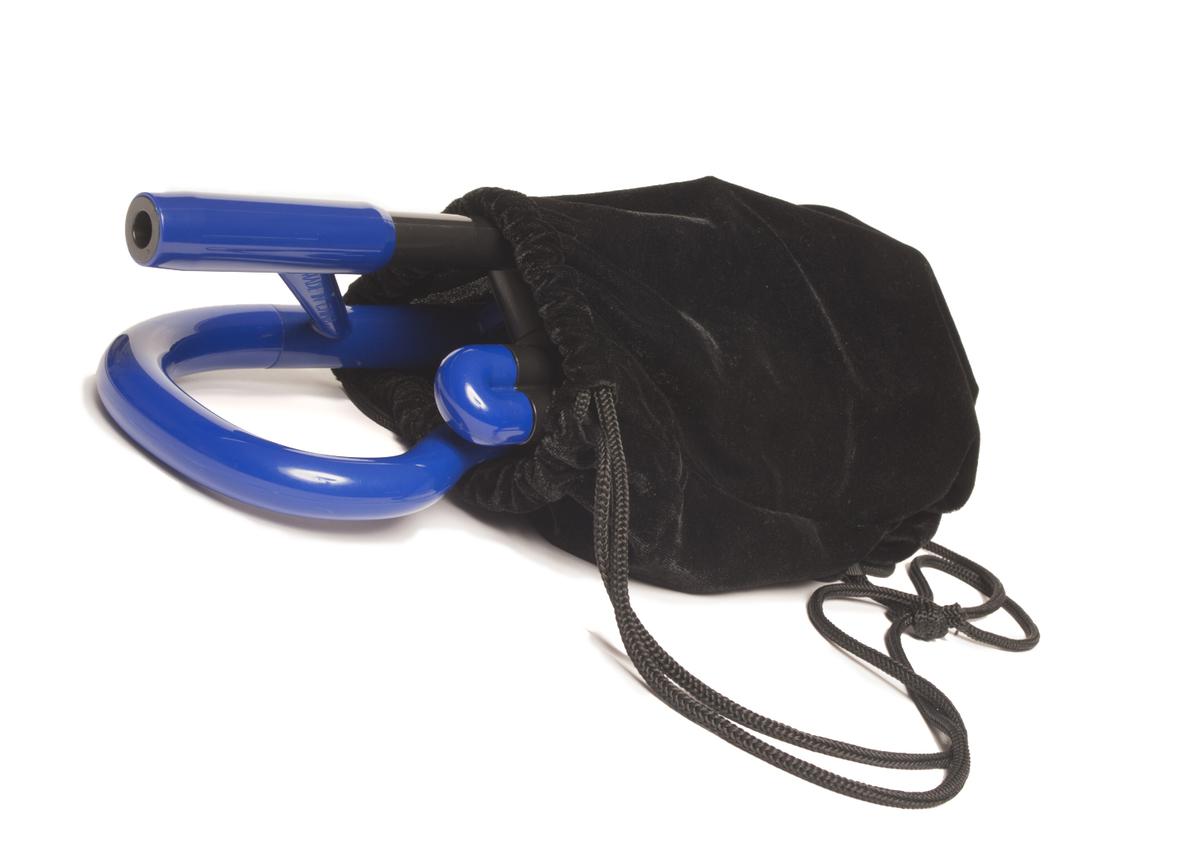 Intonation is also accurate and centred – no troubles throughout the range – especially in the middle band where young players will find they can quickly develop their playing abilities.

The valves are slick, to help not hinder emerging technical talent, and the main tuning slide has more than enough play in it to help keep things in tune with other players.
What's not to like about an instrument that is made by a company with a fine ethical production outlook, provides excellent teaching aids and on-line resources, is brilliantly designed, made to last (although it is recyclable), is bags of fun to play and costs less than the latest Premiership football team replica kit?
Try one for yourself and find out.

Iwan Fox'
---
Reproduced with permission and thanks to Iwan Fox, 4barsrest.
Watch Tom Neilson, BBC Young Brass Award Winner 2018 review the pCornet here…