Recently on our social media, we asked where children might be performing in their Christmas concerts this year. Rachel Carr got in touch to share what her eldest son is doing and how he got started, and we just had to share the story!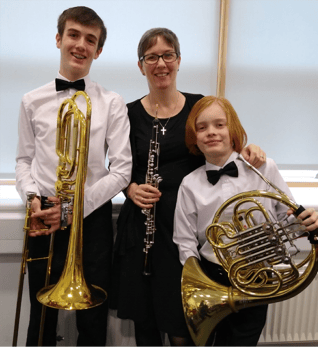 Rachel lives in Bolton with her husband Colin and two sons; Gavin, 16 and Jacob, 12. (pictured left).
Rachel plays the Oboe, however neither son wanted to follow exactly in their mum's footsteps; Jacob plays the French horn (' he wanted to play the curly one that looks like a snail') and from the tender age of four Gavin wanted to play the trombone.
Gavin kept asking and asking for a trombone, and eventually heard about the pBone when it was launched in late 2010. Gavin had been given some money for Christmas that year and decided to use that and his pocket money to buy himself a bright blue pBone.
Rachel said 'Gavin was so excited! It was perfect for him to start playing on, it was so light he could manage to hold it easily and could also carry it to and from school for his music lessons too. The pBone really gave him the confidence quickly that he needed to think he could actually do it and learn the trombone!'
Gavin went from having 20 minute group lessons to 'twilight' lessons (half an hour 1:1 instrumental music lessons in the evening after school) through Bolton Music Service and started playing in the school brass band.
As he got older and could manage something heavier Gavin started playing a brass trombone, and continued to play in high school. He now plays in Bolton Youth Brass Band, Bolton Youth Orchestra and in Worsley Concert Band with his brother and his mum!
In April last year Gavin auditioned for the Junior Royal Northern College of Music (RNCM), and now plays for their orchestra, brass band and this year in a trombone quartet.
Gavin's ambition was to play the bass trombone, which he is delighted to have started playing earlier this year. His mum said 'this Christmas he will be playing with Junior RNCM, Bolton Youth Orchestra and Brass Band and Worsley Concert Band.'
'Other than The Snowman I have no idea what he is playing (but I bet Jingle Bells will be in there somewhere). It's fantastic, and to think it all started with the pBone!'
'I love playing the trombone' says Gavin 'I still have my pBone, and would say to anyone if you're thinking about getting one yourself don't hesitate, best thing I ever did!'
---
Read more
Best trombones for beginners - read how pBone was tested against a selection of standard brass trombones, and was awarded 'best on test' here.
If your child is interested in learning to play a trombone, check out our range of pInstruments here.