Mariachi without trumpet is, well, not really Mariachi. That's our position anyway. But more and more elementary teachers are finding that pTrumpets provide the best option for teaching mariachi brass along with the guitar and other traditional instruments. Follow one teacher's journey with his students as he builds his marichi program with pTrumpets. Check out mariachi resources here.
William J. Hoffman was born and raised in Mission, Texas, where mariachi and the Latino culture have always been a part of his life. He went on to earn a Bachelors degree in Music Education from the University of Texas at Austin where he honed his trumpet skills in the Longhorn Marching Band, Mariachi Paredes de Tejastitlan, Wind Ensemble and Symphonic Band.
His teaching career started in Laredo, Texas as an Assistant Band Director and Mariachi Director for two years before moving to La Porte, Texas to be an Assistant Band Director for five years. Along the way, he has been a trumpet player and singer in several mariachi groups around Texas including Mariachi Guadalupano in Mission, Mariachi Estrella in Austin and Mariachi Los Arrieros in Laredo. Mr. Hoffman currently performs with Mariachi Imperial de America from Houston under the direction of Jose Longoria
Today, William is back at Laredo ISD teaching music education at Farias Elementary and is introducing brass instruments into the existing Mariachi music program. He has chosen to teach beginners on pTrumpet plastic instruments because of they are musical, lightweight and appropriate for young students. As they advance, he has already obtained some pTrumpet hyTech instruments in silver - all plastic except for the valves and casing, and a better lightweight option. These instruments are also incredibly affordable so, with every student having access to his or her own trumpet, teaching and learning are not hindered for lack of resources.
"My goal is to start the trumpet students by themselves, then add them into the rest of the group in the second semester. This will also give me the time to focus on their setup and fundamental playing before putting them together with the rest of the mariachi ensemble. The only other issue is scheduling, but my principal is extremely supportive of the mariachi and wants to see it thrive, so I don't see a problem there."
Indeed, scheduling has worked out well. As of November, Mr. Hoffman had his students practicing in sections, so he has time to focus on small groups, but the plan was to slowly implement group practice with section practice then, by March, have only group practices. Indeed, Mr. Hoffman just reported that full mariachi ensemble with pTrumpets has begun.
Mr. Hoffman is an experienced brass player and teacher, but he advises other teachers to not be too concerned about their own skills on trumpets. "My advice for elementary music teachers who don't have much of a background in brass is: don't be afraid to learn with the students. Most teachers think this makes them look bad, but it gives us a chance to show students determination, which can help them when they want to give up. I learned that with violin years ago and the students LOVED it. They were not afraid to make mistakes and turned out to be one of my best classes of violins." To brush up on your own brass buzzing skills, check out this video.
Mr. Hoffman uses a traditional approach, with modifications that impact Mariachi. "I teach the students how to read notes on the Treble Clef staff starting in 3rd grade, so these students know the notes and only need to know their fingerings on the trumpet. As a result, I teach them the notes in the keys I feel they will play in most (in this case, G and D). In November, my students can read and play middle C, D, E, F# and G."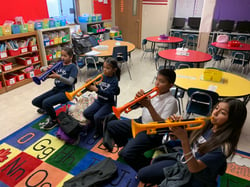 "By mid-January, even with pauses for COVID, the students are working on the C major scale. They have learned all notes from middle C to the next C above. I am teaching them F and F# as well so they can play in G and D major for mariachi and the C major scale when it's only the trumpets. Later I will teach them the D major scale. Not sure about G major because that will be either really low or really high for them. They were able to play as an ensemble starting in late February and will continue that way (with sectionals as well) until their concert in the Spring.
"By the end of this year, I will have students who can play, so when they return for the 2022-2023 school year, I will have students playing for a second year who should be able to play some basic mariachi music."
For teachers who are not teaching treble clef to their students, Warwick Music has created the Brass Tabs notation to help students listen and play without standard notation. For more about Brass Tabs and links to five basic Mariachi pieces for trumpet, visit our Mariachi resource page.
To learn more about the Laredo ISD arts programs, check out this video.