When the musicians and teachers at Warwick Music developed the series of Early Learning pInstruments, developing learning pathways for music were forefront in their minds. Early exposure to a playful instruments like the pBuzz and pBugle can help develop a child's sensory and fine motor skills, encourage self-expression, and stimulate imagination. By encouraging their creativity, pBuzz and pBugle help build confidence and nurture their natural music talents, all while having great fun!
Learners discover how to create a tone by actually doing so, and how to move air to give that tone shape and clarity. With pBuzz, the simple slide demonstrates how pitch and notes are created, and it's a short step to playing a more advanced instrument, including the smaller pBoneMini or the pBone full size trombone.
In the same way, the new pBugle and pTrumpet showcase these basic music skills with smaller instruments, and this has led to a huge interest in elementary trumpet playing, especially in Mariachi programs across the U.S.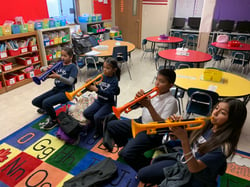 Mariachi is the fastest growing music program in the United States. There are thousands of music students learning Mariachi music, primarily on stringed instruments. Of course, the trumpet tradition in Mariachi music is tremendously strong, so ignoring the teaching of brass really does a disservice to this fine Mariachi tradition. But the problems of teaching trumpet at the elementary level – weight, size, cost, etc. - have been a barrier to providing the complete Mariachi experience. Until now.
Ramón Rivera is the director of the Mount Vernon (WA) School District Mariachi Program. He teaches Middle School and High School from Beginner to Advanced. Ramón has been teaching with pTrumpet and it has been a game-changer for his Mariachi Program. "The pTrumpet is lightweight, easy to carry, and plays like a brass trumpet. I found it easier to teach the students to learn how to buzz on pTrumpet and it is so much easier for the student to learn the fingerings when simply holding the trumpet is made easier."
Ramón's co-teacher, Rachel Wulff, reports they have 16 ptrumpets so 16 students will be learning trumpet and another 15 or so will start on guitar. "We are playing trumpet every day in our mariachi class. Our student teacher is observing and co-teaching as well. We are super excited!"
At nearby Centennial Elementary, the program is also expanding to include the teaching of basic trumpet skills on pBugle. pBugle is designed to give learners their very best beginning for learning the trumpet. pBugle is essentially a normal Bb trumpet with no valves... and made from plastic! Teacher Rene Godina also has a few pTrumpets for advancing students as well as pBuzz instruments to give students a well-rounded early musical experience.
The pBugle is designed in the key of Bb. Without valves, it won't musically fit with typical Mariachi guitars and music. That's really not a problem, though, as the pBugle is simply a learning instrument, giving young students important lessons in making a tone, creating harmonics, and moving air. With these skills, the students can move easily to pTrumpet and learn the fingerings they need to play mariachi trumpet quite quickly!
Interested in getting started? Here's everything you need to get started making music on the pBugle. By the time a student is physically ready to handle a metal trumpet, including the pTrumpet hyTech, his or her skill level can be quite impressive.
As for Mariachi, Mr. RIvera has developed demonstration videos and materials for five popular and easy-to-play. Mariachi teachers have been playing these well-known songs without trumpet. Now you can present these iconic cultural pieces with full instrumentation by incorporating pTrumpet (and pBugle) into your efforts.
For more information, visit the Mariachi page on our website. pInstruments are available from your favorite music dealer. Contact us for any pInstrument questions you have.