Hello, I'm David. I was waiting for the CBSO concert to begin and I could hear the brass section warming up in the wings. My wife lent over to me and said "why don't you get Katy's (our youngest daughter) old trombone out and learn to play?" I'd been thinking of selling the instrument as it had been lying idle since she went to university. The concert started and I kept my eye on the trombone section throughout the performance.
The next day I telephoned Ron, Katy's former trombone teacher, and asked him if he would give me a lesson. If I did not do it immediately I would never have the confidence to start. I also asked him if he thought it would be too late for me to learn as I had just turned 55 years old. The reply was "it is never too late!" I am now 71 and all this is before the pBone was developed.
The first lesson went well. It was very relaxed and we decided that I would learn to play purely for enjoyment with no target of doing exams (more of that later). I remember an early discussion about should I play in the bass clef or the treble clef? If one is going to eventually play in a brass band the treble clef is more appropriate but Ron thought I should aspire to play in a wind band or orchestra and so it was agreed I would learn to play in the bass clef.
After a few weeks of lessons and practice I found that my embouchure was improving. That is, my lip muscles were adapting to the mouthpiece and I was playing recognisable notes rather than squeaks.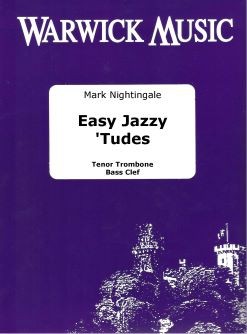 After learning some basic scales and very simple tunes I was introduced to Warwick Music's Easy Jazzy 'Tudes, composed by Mark Nightingale. There was an accompanying cd so I could hear what the pieces sounded like played properly. The tunes range from easy to play with some getting gradually harder. The beauty of the pieces is that they are not aimed solely at young beginners, and Ron mentioned that some of the pieces were in the exam syllabus.
Within a few months I progressed to playing duets with Ron. We used Warwick Music's Jazzed A Minute composed by Gary Austin. I still love No 4 "Oh!"
My lessons were a highlight of my week and although my lesson followed a young teenager I never felt inadequate – Ron would say "he doesn't practise as much as you do". I took that as a compliment.
I had a very busy working life but with the advantage of working from home. I kept the trombone out, and if I ever needed to de-stress, I would have a blow for ten minutes and the business problems were quickly put into perspective.
The International Trombone Festival was held in Birmingham the year after I started to play, and I found myself performing in a section of learners, on the stage of Symphony Hall. Little did I know the year before that's where I would be, after that CBSO concert.
David performing in 2006 at Symphony Hall, Birmingham after playing trombone for one year
I eventually joined a local community junior windband. Not junior by age but by experience. There were many adults in it either learning for the first time like me or trying out second or third instruments. I sat next to Emily, aged ten, who was way ahead of me, and who I relied upon to put me right. (She now plays professionally in a military band).
After a few years I formed a trombone quartet. We used to meet regularly in our kitchen and sometimes perform in public at village events.
It's very important to play in an ensemble to gain maximum enjoyment out of learning to play the trombone. It's not just the music but the social side. Brass and plastic instrument players are normally good fun to be with.
Ron finally persuaded me to take some exams as something to aim for, and at first I reluctantly agreed. It certainly helped me to grow more confident and all the examiners were kind and appreciative of my efforts. Being older had definite advantages.
My experience grew and eventually Ron suggested I should have lessons with a professional trombonist as he was essentially a tuba player. I made the switch to Richard and he helped me to get to Grade 6. I did the Trinity College exam at this level as I did not want to worry about passing the Associated Board theory paper at Grade 5. I was in it for enjoyment after all!
N.B. It's very important to find a teacher you can relate to. I was very fortunate with Ron and Richard. We became friends as much as teacher and pupil and that helped enormously with the lessons and the learning.
I bought the first commercially available pBone. I could not wait to get my hands, or should it be lips, on one. It's been great fun to play alongside my much more expensive brass instrument (I upgraded from Katy's student trombone). The pBone doesn't dint, can be played in wet weather, and mine being red, attracts lots of comment and interest. I don't have to be precious about the pBone and my young and boisterous grandchildren can have a blow when they visit.
I ended up with two pBones. I have just lent one of them to my friend George. George moved into the village recently. His daughter told me he used to play in the Haworth Band in Yorkshire, and although he had not played for many years he was looking for something to occupy himself during the pandemic lockdowns. George was delighted when I lent him a pBone and he was fascinated that you could obtain such a wonderful sound from a plastic trombone. George, pictured left, is 88 years of age.
Ron would say "you are never too old to start or to re-start!"