The UK will host the 26th UN Climate Change Conference of the Parties (COP26) in Glasgow on 31 October – 12 November 2021. The COP26 summit will bring 196 countries together to accelerate action towards the goals of the Paris Agreement and the UN Framework Convention on Climate Change.
It is becoming clear that the world is running out of time to reduce our carbon emissions, keeping the rise in global average temperature below 1.5 degrees Celsius which will avoid the worst impacts of climate change.
Carbon Neutral Plus from Warwick Music Group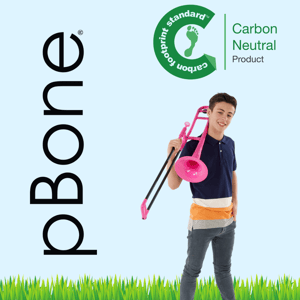 As we have talked about before, Warwick Music Group has worked hard to reduce and ultimately achieve net zero emissions by 2030 as part of our climate change pledge - the first by any UK instrument maker.
All our instruments are already fully carbon neutral from production right through to delivery to our customers.
We use hybrid and electric vehicles, our head office is powered by wind and solar energy and we've broadly eliminated the use of paper across our business as well as cutting down on travel. Of course, there is still work to do.
With support from leading environmental specialists, Carbon Footprint, in 2021 we actually achieved carbon neutral plus status - this means we are now offsetting an additional 10% above the carbon emissions for which we're responsible. And we continue to do more to reduce our footprint in the first place such as raw materials, packaging, sourcing and shortening supply chains.
Time for change in the brass instruments industry?
As brass players ourselves, our commitment has always been to make the joy of music accessible, sustainable and fun! We've loved becoming and being brass players and want to enable beginners all over the world to experience those same opportunities. Half a million instruments later and every day we receive messages from our community, sharing their love of music-making.
The manufacture of brass instruments is over one hundred years old and has changed little in this time - mostly because it hasn't needed to. We understand the challenges faced by brass instrument manufacturers around sustainability - it is an energy intensive process and requires the use of metals which are in themselves challenging to mine - lead, zinc, nickel to name just three.
It's clear that consumers and educators expect responsible companies in the 21st century to be transparent about their sustainable journey - it's something we have done ourselves and we are not perfect; after all our instruments are manufactured using (recyclable) ABS plastic. But we will continue to make strides to do what we can to achieve net zero and sincerely hope our fellow manufacturers start to share their own journey with you too.
Consumers and Educators can make their voice heard
Consumers and educators have a large part to play in influencing the speed of change which is needed by all companies - large and small - so please make sure you ask your retailers and manufacturers about their sustainability journey when considering which instrument you are buying for yourself, your school or your child.
The onus is on them to demonstrate to you their commitment - they may just be starting out or already be a long way down the road - but in any event, saying nothing and doing nothing would suggest that sustainability is just not a priority to them.
How do plastic instruments and brass instruments compare to each other
Here are the top five sustainable differences between plastic musical instruments and brass instruments:
Making and sending a pBone plastic trombone around the world uses 10% of the carbon it takes for a brass trombone - and because we offset all our carbon, in reality the carbon impact of buying a pBone is zero!
Warwick Music Group offsets all the carbon in the production and shipping of all our instruments - we sell about 50,000 instruments a year but use a lot less carbon than brass instruments in the first place and are looking to reduce our carbon footprint every day!
All of the ABS plastic we use is fully recyclable. We can't use recycled-ABS yet because we also follow very stringent EU REACH safety testing rules which does not allow the use of recycled raw materials. But we're working on a solution with our local councils to take their household recycled waste and turn it into instruments for their local schools and communities.
In the last ten years since we started, every person, teacher, parent and school who has purchased a pBone, pTrumpet, pCornet, pBuzz, for example have actually saved carbon by doing so - in fact over 26,000 tonnes of carbon emissions (CO2e) - and that's equivalent to 60,267 barrels of oil saved or 65 million miles for an average car avoided.
Perhaps the most simple comparison is a school or music hub in the UK which wants to buy 30 trombones for a whole-class ensemble. Our instruments, like the vast majority of beginner trombones sold in the UK, are manufactured in China - although the pBuzz is actually made in Mansfield, Nottinghamshire! If you were to buy 30 pBones instead of 30 beginner brass trombones then you will save almost 3 tonnes of carbon emissions (CO2e) for that single order.
You'll often hear about the race to Net Zero; and it's worth bearing in mind that this race is a marathon not a sprint. However, at the end of every race there is normally a winner - this time, if we can get behind the mission and purpose of the COP26 conference, then that winner will be all of us - and our planet too.
Read more...
Read about our sustainable journey
Did you know all pInstruments are carbon neutral - find out why and how
Warwick Music Group is the first UK instrument manufacturer to commit to net zero
____________________________________________________________________________________________________________
---
---
---
---
---
If you'd like to receive updates and information from us, then please sign-up to our newsletter below. We won't share your details with any third parties.