Now that we are returning to work, play and education, it feels good to be on the pathway back to the resumption of a more normal education generally and brass playing specifically. However, Covid is still here and we must remain vigilant as restrictions are slowly lifted. A key part of this must be around instrument cleanliness and controlling Covid in the air around us as we play. But what really works, how can we properly create the safest environment for brass playing with Covid?
Independent Research
As we ask these questions luckily the Music Industries Association's (MIA) sister association in France, La Chambre Syndicale de la Facture Instrumentale (CSFI), with funding from various music industry companies and the French Ministry of Culture, have investigated the impact of Covid on musical instruments and singing.
This is research
of the highest quality and is currently undergoing peer review, prior to publication.
With the formal research being completed last month, this project is one of the most important pieces of research in Europe, if not the world. The project is called
PIC-PIV
which stands for "
Protocoles pour les Instruments face au Coronavirus et Pratiques Instrumentales et Vocales
".

If you didn't have the chance to watch the MIA webinar on the 25th of February: "Preliminary results of ground-breaking research project into the impact of Covid-19 on musical instruments and singing" it was an hour long and well worth a watch for all of us involved in music education.
The CSFI have also created a series of advice PDFs, here is the brass and wind version: Woodwind & Brass instruments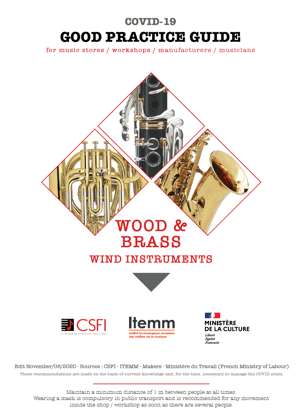 The key conclusions (which are still preliminary and subject to formal presentation of the research in the coming weeks) were:
It is possible to disinfect all musical instruments against Covid following the guide methods proved. Alcohol based disinfectants (in the right concentrations) were most effective in reducing the virus exposure. Hydrogen peroxide was not as effective. [Module 1]
The lifetime of Covid on musical instruments varied based on the material e.g. quarantine period for instruments made of ABS instruments was after one day, after three days in brass, after six days for cane reeds, etc [Module 5]
Wind instruments do not generate additional significant airflow
Large droplets will be deposited on the walls inside the instrument and could stream – hence why the disinfection protocols are required when sharing instruments.
Aerosols produced by instruments and singers are very small
Masks and bell covers are very effective
This led us to thinking about a few, immediate questions which we'll explore further in this blog.
---
What are the key areas we need to address?
This report, alongside other research and advice, tells us that surface contamination and air borne water droplets and aerosols are the two key sources of Covid-19 infection that could create heightened risk whilst playing and teaching brass.
"an individual mouthpiece for each player is going to really help contain infection and build confidence"
Our initial thoughts are:
The first and most obvious advice must surely be that no matter what the provision of instruments an individual mouthpiece for each player is going to really help contain infection and build confidence.
If instruments are shared either with another school, cohort or within each class or group (i.e. each player does not have their own, designated instrument that only they play) then a disinfection and/or quarantine protocol must be in force.
If instruments are used for workshops or try-outs a disinfection and/or quarantine protocol must be in force between each use.
Some form of bell covering radically decreases the distribution of aerosols and should become standard practice.
Each school will have an individual view on the wearing of face masks before, during and after sessions that must be included in our delivery.
This all seems very obvious but implementing the above is operationally difficult, we all know that the practical task of making brass instruments work properly is time consuming and with whole class work this is exacerbated. Adding a thorough disinfection regime will be difficult.
---
How can pInstruments help?
We believe our plastic instruments can genuinely help:
Mouthpieces - our plastic mouthpieces are a cost-effective way of ensuring all pupils and teachers have their own mouthpiece. These mouthpieces can quickly and effectively be disinfected by 70% alcohol wipes. All our non-transparent or opaque mouthpieces have an antimicrobial additive.
"The CSFI research tells us that COVID-19 will only survive for 24 hours on ABS"
pInstruments - The main construction and all the touch points on our instruments are made from ABS plastic. The CSFI research tells us that COVID-19 will only survive for 24 hours on ABS. Traditional brass instruments require three days quarantine. ABS can be quickly, safely and effectively disinfected with 70% alcohol wipes. Our valves require no oiling, our slides require no lubrication, so close contact between pupils and teachers can be minimised. Plastic is nearer to room temperature when playing commences, creating less condensation.
Biomaster Protection - In addition to the mouthpieces, Biomaster is in the following parts:
pBone: slide bow
pBone mini: slide bow
pTrumpet: main tuning slide
pCornet: main tuning slide
pBugle: main tuning slide
HyTech Trumpet: lead pipe and main tuning slide

As you can see, the additive is in places where condensation will naturally gather.
You will already be saying "but so what, this additive is a biological agent used against bacteria, ok…it's a good thing generally but why do they keep banging on about it here, COVID-19 is a virus?"
Biomaster is effective against Norovirus - a good indicator that it can help kill COVID-19. As Biomaster's manufacturer says: "Covid-19 is an Enveloped virus and relies on a protective lipid coating. These are the easiest types of virus to deactivate. Unlike many gastrointestinal viruses such as Norovirus which have a tough protein shell called a capsid enveloped virus, viruses with this lipid coating are relatively vulnerable and easier to destroy. Biomaster has yet to be tested against Covid-19 on this type of application and currently there is no method available by which it could be tested. However, although we do not yet have any data, the microbiology suggests that if Biomaster is effective against Norovirus on porous surfaces, then the active agent is also likely to have an effect on the lipid coating and the essential components required for Covid-19 to function and invade a host."
How could Biomaster technology help against SARS-CoV-2
Ease of cleaning - If it's easy there's more chance it'll happen and get done well! The robust nature of our instruments means that cleaning is quicker and easier. Mouthpieces can go in the dishwasher. All the instruments can be immersed in liquid (except the pBuzz upper section). There is no individual pairing of parts with our instruments so slides and valves mix and match. The chance of any damage during robust, mass cleaning is negligible meaning young pupils can join in with cleaning or clean their own instruments (once risk-assessed).
Bell masks for our instruments - our products all have standard bell diameters. We are supplying cotton, bell masks made by our friends at Denis Wick in the kits below. These masks are UK sourced and machine washable.
So, there is no "silver bullet" here, but a whole raft of benefits using pInstruments that combine to help.
---
---
Developing solutions for teachers
We wanted to go further to help and make things easier so we've created a set of pInstrument Protection Kits. Each kit is for 10 instruments and includes:
These kits are available now from our website for pBuzz, pBugle, pBone mini, pBone, pCornet and pTrumpet from £49.99 or $79.99 for a classroom pack of 10.
*Instruments not included in Protection Kits*
"We cannot guarantee 100% safety against Covid, but we believe our Protection Packs used with easy-to-clean ABS plastic instruments are the safest way to deliver brass instrumental music making in schools."
As ever we are keen to give support where we can, especially sharing news about success and best practice throughout the brass world, so please get in touch and we will do anything we can to share, help and support you.
---
If you'd like to receive updates and information from us, then please sign-up to our newsletter below. We won't share your details with any third parties.