On Friday 7th December WMG Ambassador, Darren Lea visited Grange Farm Primary School in Coventry to introduce 2 classes of KS1 students to brass instruments.

In the session, the Year 2 students came together to form the 'Grange Farm Orchestra' and all learnt how to buzz and play a brass instrument.
As part of their week's lessons the 6/7 year olds had made various instruments by themselves using various household items and had focused on how sounds are made.
Darren introduced them to a number of instruments including the pCornet, pTrumpet, pBone and pBuzz. The hour or so session ended up with all 60 students performing both 'Rudolf the Red Nosed Reindeer' and 'I Feel Good' together.
Teacher, Kirsty Wookey commented, "It's great to see the children really get into making music, they all enjoyed working together as a team and performing a couple of songs with conductor Darren leading the way!"
Darren was impressed with how the children threw themselves into making some musical sounds for the first time and working together to perform two well-known songs as their own brass orchestra. "Eyes lit up as the children where given their own mouthpieces to play in a pBuzz, there were a couple of lightbulb moments and the benefit of making music was plain to see."
Darren is looking forward to revisiting the school when more students will learn the skills to make music.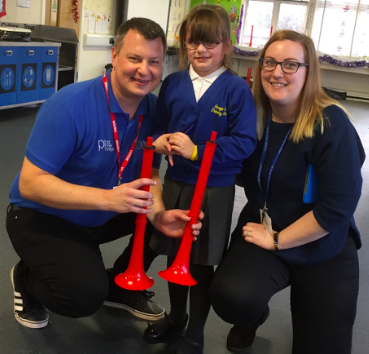 L-R: Darren Lea, Georgia Lea, Kirsty Wookey (Year 2 Teacher)
As a follow up session, Miss Wookey asked some of the students to write a sentence as to how music matters to them, here are a few;
"I like music because it makes me feel happy and feel strong when it is loud so I just really like music.

"

"

Music is important to me because I can learn what rhythm and pulse are in different types of music.

"

"

Music is important to me because I like playing instruments and make music and songs like 'the greatest show' and 'come alive' but not 'a million dreams' when the kids sing in part of it.

"

"

Music is special to me because it sounds nice and helps me do my work.

"

"

Music is important to me because I like singing and it is my dream to be a female singer when I'm older.

"

"

Music makes me happy I like playing music with my friends.

"

"

Music is important to me because it makes me feel good. I want to learn to play the piano and trumpet.

"

"

I like musical instruments because it is either loud or quiet. I don't mind either of them but my sister likes music more than me, she dreams music.

"